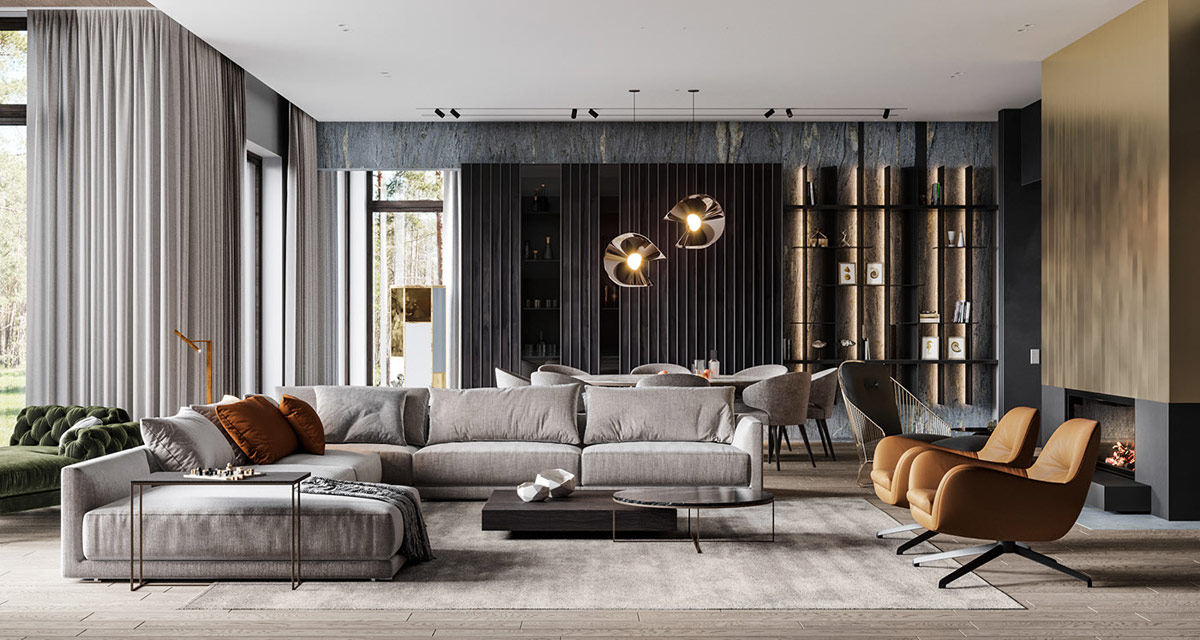 Grey vinyl flooring is still the most popular choice for discerning buyers. Despite talk of moving back towards warmer shades, it would appear that grey has become the timeless staple for surface backgrounds in any room throughout the house.
The versatility of the cooler hue allows for pairing with so many different colours to create a unique feel in each space. Furthermore, the many different shades of grey available offer endless options to ensure no room is ever the same.
Let's start by looking at the different types of patterns that are available in grey tones. There is something to suit all styles of home, from ultra modern to rustic, from English Victorian to Moroccan and Spanish styles.
Grey Terrazzo Vinyl Flooring
One of the most recent trends in interior design has been the resurgence of Terrazzo Flooring. We love the glamour that Terrazzo flooring adds to a space. It is redolent of 1960s Italy and La Dolce Vita. But it is an undeniably expensive finish that is difficult to lay and even harder to care for. As you can see this looks great in living areas, offices, bathrooms and kitchens…
So we were delighted to discover a very convincing grey terrazzo vinyl sheet flooring design that creates the look without any of the expense or difficulties. Click here to view our Grey Terrazzo Vinyl Flooring.
Grey Patterned Vinyl Flooring
Encaustic cement tiles have been a great inspiration for creating vinyl floor tiles that echo Moroccan tiled floors or Spanish flooring designs. If this is the look you want to emulate in your home, we have a wide choice of options.
These sorts of designs are available as vinyl floor tiles, vinyl sheet flooring and laminate flooring. For advice on which of these formats will best suit your needs click here.
Again, these can look fabulous in any room in your house as you can see in the images below. They suit a rustic or contemporary interior scheme and add a real wow factor to any space.
Grey Ceramic and Porcelain Tiles
If you prefer the authenticity of laying actual patterned porcelain or ceramic tiles we also have a multitude of options in this ever-popular hue.
Some have a soft matte finish, many have the appearance of smaller tiles using fake grout lines but are actually in larger formats for easy laying. Some have a high sheen porcelain finish; there really is something for everyone. What they will all have in common is lending a very high-end sophistication to your space.
Pairing Grey Flooring With Other Colours
Just because you choose grey for the backdrop of your scheme doesn't mean you are restricted to using grey hues throughout. The beauty of grey is its versatility. It looks fabulous with earth tones, mustards and ochres, shades of green and even with muted pinks. Here are some interior design schemes to whet your appetite!
Grey flooring colour schemes for the living room…
For the hallway…
Perhaps you are redesigning the hallway? Then why not add a striking front door in bright yellow or a muted pink. These would really bring a patterned grey floor to life.
For the bathroom…
A bathroom with grey flooring looks stunning when paired with rich hardwood accents, industrial black shower frames and lots of greenery.
For the kitchen…
Grey floors in the kitchen also look fabulous with hardwood units or with plain white
Feeling inspired? I hope so! You can shop all of our grey flooring designs below. Whichever you choose I'm sure it will create a stunning grey background for your home.