Vinyl Floor Tile inspiration is always at the forefront of our minds on our travels, particularly when we´re in Spain, Portugal, Morocco or Latin America. We are always on the look out for eye catching and authentic patterns, colours and shapes that will create beautiful floors in any space. We love the original encaustic cement tiles that are everywhere in older properties in these parts of the world.
History Of The Azulejos
When the Moors invaded the Iberian peninsula in the 13th Century they brought with them the Arabic decorative tiles. The word azulejo means 'small polished stone' in Arabic. Originally they were fairly simple structures cut into geometric shapes in neutral tones.
We are always on the lookout for our next design inspiration and we see many beautiful old tiles in our travels around Spain. These pictures are all from the interior of a restaurant in Sitges near Barcelona, called Le Patio. It is in an atmospheric Modernista building from around the turn of the 20th century and it has kept all its original features including the original tiles.
As you can see many are very worn and battered but I think it only adds to their vintage charm. If you want to source similar reclaimed tiles then I would recommend looking for reclamation and architectural salvage online. Lassco have some wonderful authentic tiles but with some designs at £300 per square metre it can be a very costly business.
In the 20th Century the design of traditional tiles moved with the times. Gaudi famously adorned Park Guell with some of the most extensive use of mosaic tile works and it has stood the test of time, being one of Barcelona and the world's most visited tourist sites.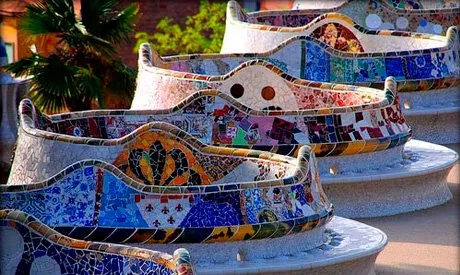 Over the border in Portugal, they secured their foothold in Portuguese culture between the 16th and 17th centuries. The favoured style was always blue and white, with possible some yellow thrown in. These tiles can still be seen adorning buildings all over Portugal and have become almost as synonymous with the country as Port and custard cakes.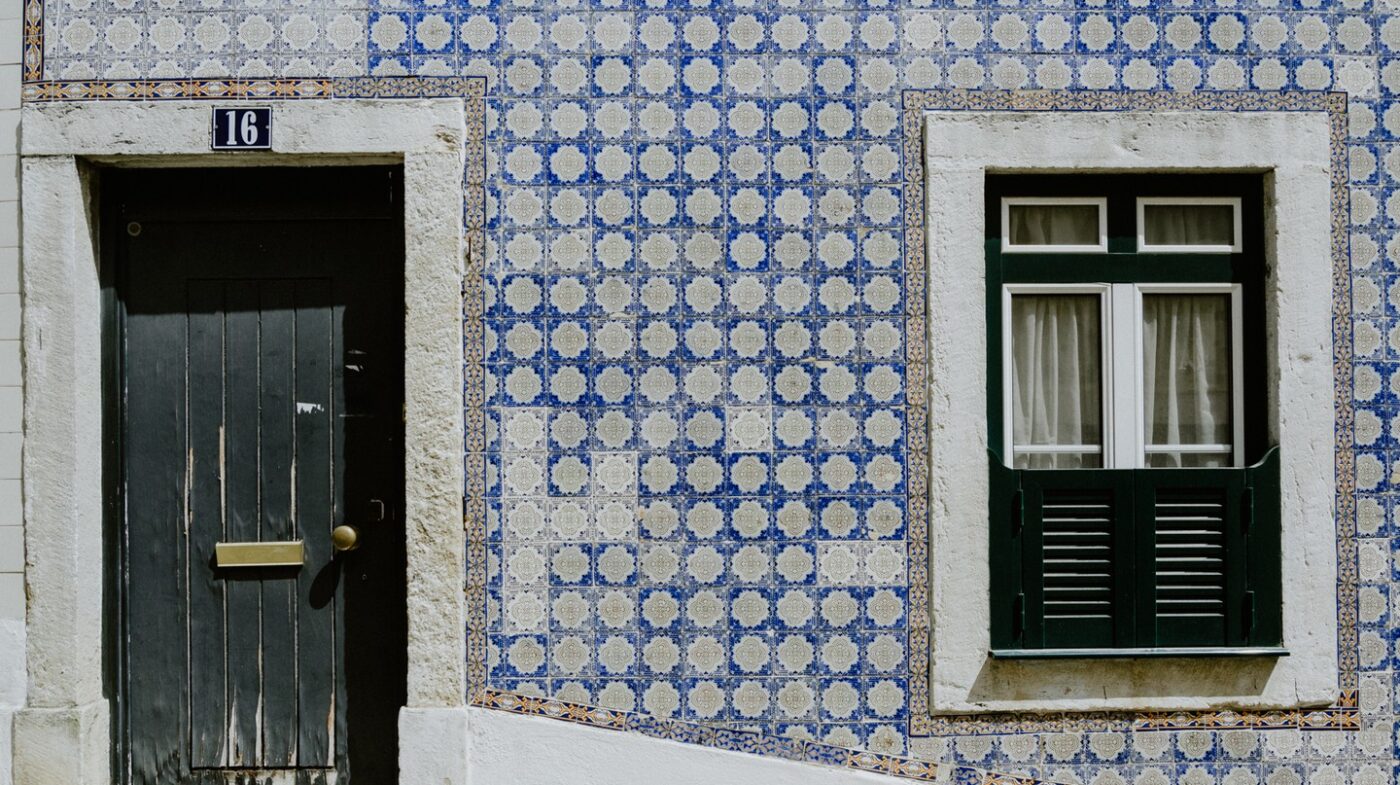 In the 20th Century some fabulous mid century modern interpretations of the traditional tiles reinvigorated the use of tiling on buildings.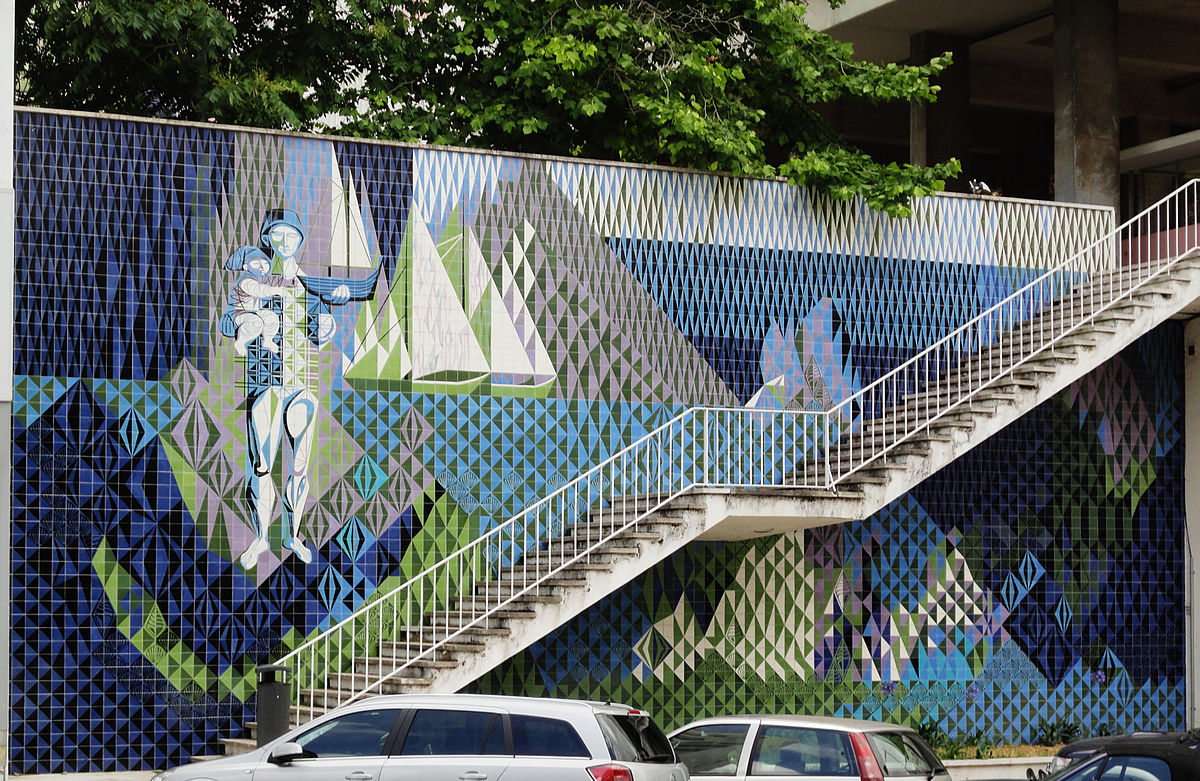 Maria Keil designed the large abstract panels in the initial nineteen stations of the Lisbon Underground (between 1957 and 1972). Through these works she became a driving force in the revival and the updating of the art of the azulejo, which had gone in some decline. Her decorations of the station Intendente is considered a masterpiece of contemporary tile art
Our Vinyl Floor Tile Designs
We´re going to let you into a little secret. Our best selling vinyl floor tile of all time is our Sorzano Original design. When we created this design we were inspired by a gorgeous old cement tile that we came across in a charming B&B Called Casa Josephine in a village called Sorzano in the Rioja region of Spain. We had to make a few tweaks to the design to make it suitable for production and cutting in vinyl but we think our version is every bit as beautiful as the original. We hope you agree! Here are the original tiles that inspired us.
And here is our version in smooth matt vinyl. Who would know?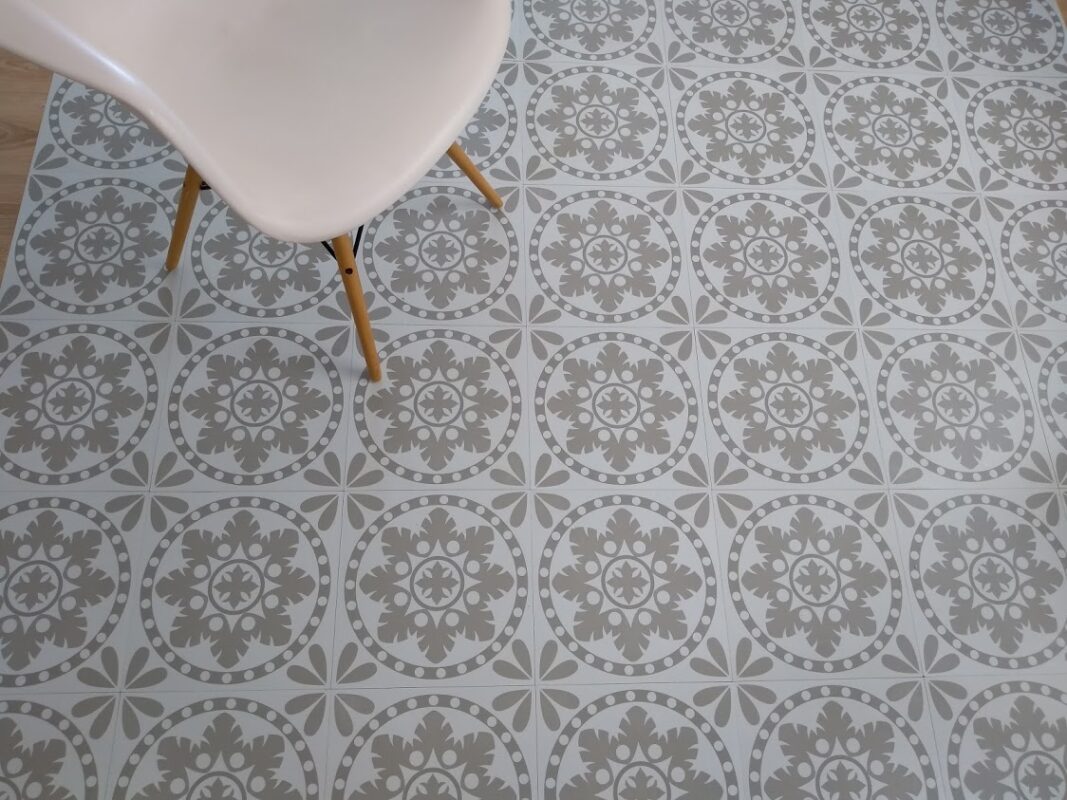 We love the warm colour of the mustard shade with the grey so our first version of this tile stuck to the original colour scheme. Later we added a version in Sage which is a greenish grey and suits most modern interiors.
You can lso recreate a very similar look using modern ceramic tiles such as these beauties starting from £20 per m2. They really will bring an immense amount of style and character.
And how to furnish the room when using bold vintage patterns on the floor? There are several ways you can go. In the image above they have gone for an eclectic style. A French 18th century style chair with a modernist glass and tubular steel table, a simple modern sofa and the bold floor tiles makes for a cool but casual look.
Or you can go all out with vintage style. Track down period furniture on ebay and create a step back in time.
I personally love to combine a very clean modern interior design with the more vintage style designs, as shown in this delightful kitchen…
We hope this gave you some ideas if you are looking to add some Spanish flair to your home. With or without Ricky Martin we all like a taste of the vida loca!