Our favourite bathroom trend right now has to be the industrial monochrome look. It really took hold when someone had the bright idea to invent the black framed shower enclosure which are all the rage and look fabulous! Whether you have a modern loft apartment or a traditional Victorian house they work well in any setting and create a real wow factor!
Industrial Monochrome Examples
It looks amazing here with the white brick tiles and the geometric tiled floor, the industrial-looking dark wood planks, the rustic but cool black tap over the cylindrical basin and some greenery. Beautifully done.
Here we have a very similar look with the same Edwardian style white brick tiles on the walls but on the floor they have the Comet vinyl floor tiles. The same look but in easy to lay and cost effective vinyl. Again they have softened the look with a wooden stool, shelves and a plant or two. Here are a few more to whet your appetites…
If you prefer ceramic to vinyl then look no further than the Blore Ceramic Tile shown here. It looks stunning!
This style is very fashionable right now but it's such a timeless style that I don´t see it going the way of the avocado bathroom suite anytime soon, (although I´m rather partial to a coloured suite myself!)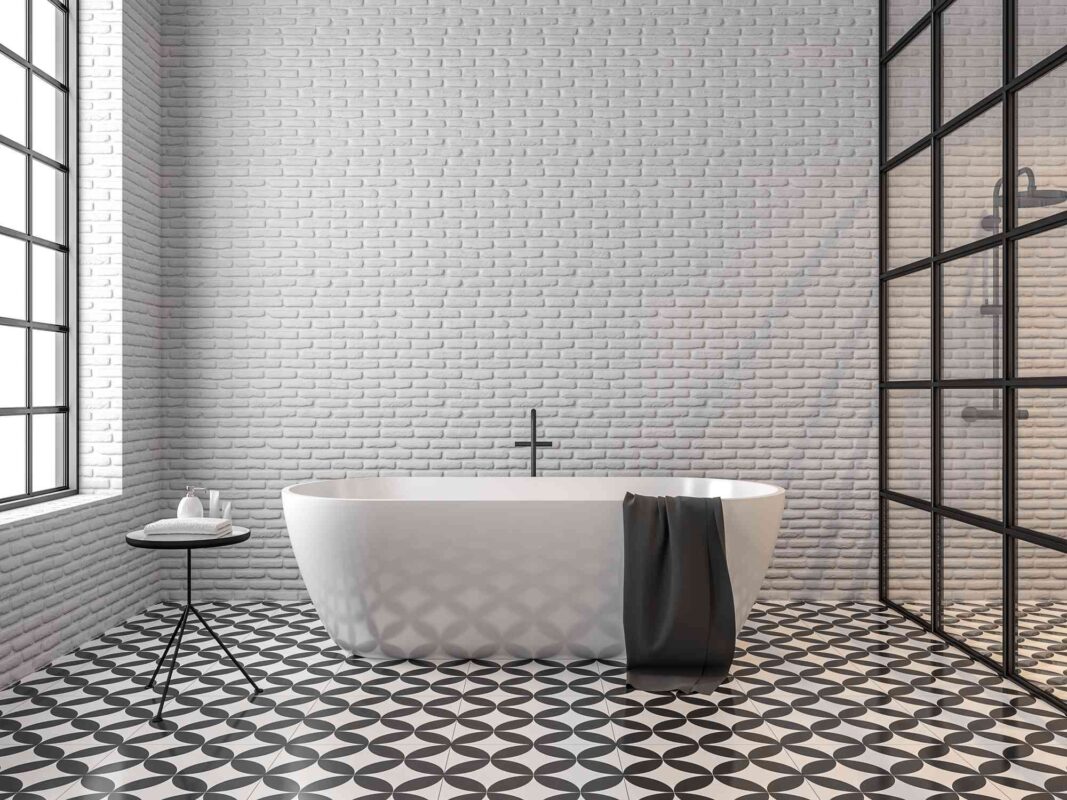 If you find the stark contrast of black and white and the black framed shower a bit much for your tastes then there is a softer aesthetic you could go for. I love this white and light grey vision…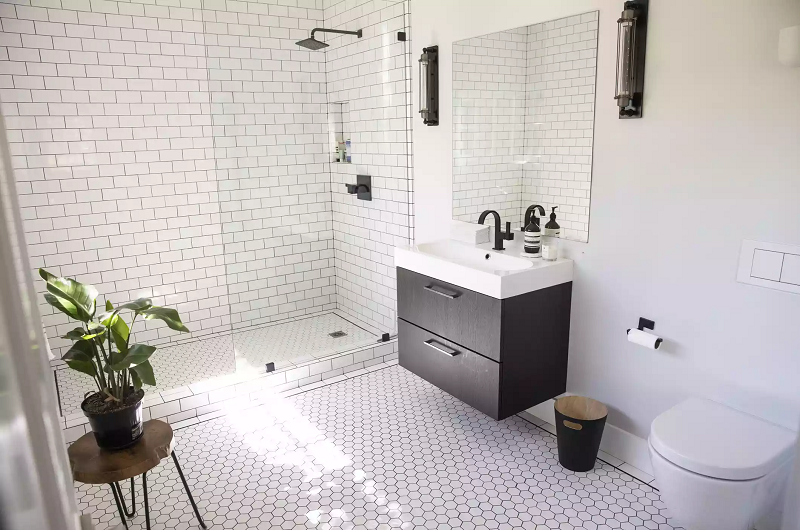 Want to source the black grilled shower enclosure? You could try Sanctuary Bathrooms or Victorian Bathrooms 4 U who both have a good selection at reasonable prices.
And for the flooring we've got you covered. Browse our vinyl floor tiles, sheet vinyl flooring and our ceramic tiles for a great selection of bold monochrome patterns.