Forget about the price tag: Vinyl floor tiles for businesses are the perfect quick fix to spruce up your premises on a budget
Being in business you know that contract quality flooring and wall coverings can cost a small fortune. They are designed for very heavy traffic and to last a lifetime. Which is great, but for an area to look great without the high price tag there are quick fixes that will still last for several years.
Examples of our Vinyl Floor tiles
Our vinyl floor tiles have graced the floors, walls and splashbacks of many cafes and bars for the last 10 years and held up really well. And let´s face it, fashions change! You may want a change of style in another 5 years, do you really want to be stuck with the same floor covering forever?
Some great examples of our Gothic Vinyl Floor tiles used on the walls of a cafe. They create a wipe-clean surface that looks expensive and, without the heavy footfall, makes a very durable wall covering!
Above are our Sorzano Original Floor Tiles on the wall of a bar in the Netherlands. Don´t they look marvellous?
It´s not just the catering industry that needs easy to clean floors. Look at the same Sorzano Original vinyl tiles in a barbers shop in the UK. A very cost-effective, practical solution for a business floor.
And here we have a gorgeous example of the Havana Night Vinyl Floor Tiles used in a florists.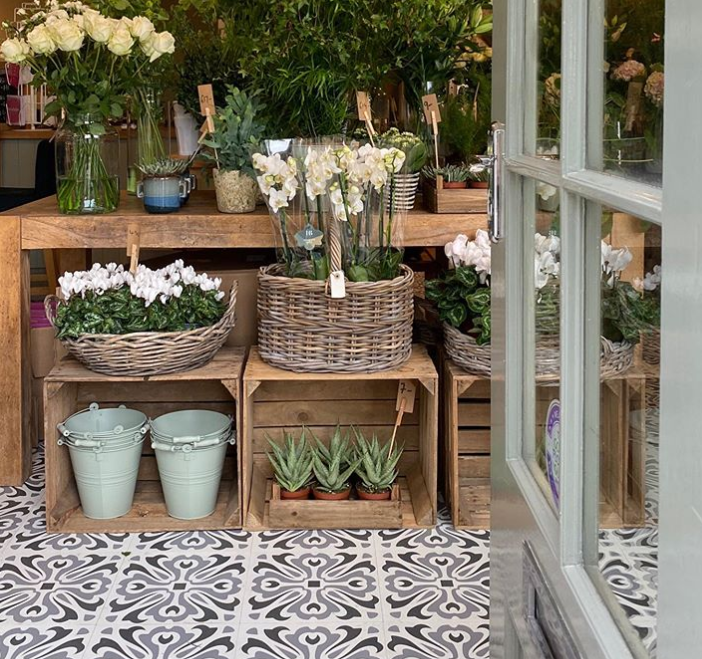 Using Floor Tiles in Campervans
Maybe you hire caravans or campervans and they need a little facelift? Vinyl flooring is the perfect solution. It is so easy to cut to fit unusual shapes and it is not too rigid for a vehicle. Look at this beautiful Ronda Grey Vinyl Sheet Flooring used here:
So before you take out the bank loan for those refits have a think about cost-saving alternatives – you can make a huge impact on a low budget. It may not last forever but at a fraction of the price, you will still be saving money the 3rd or 4th time you decide to update that look.
If you have already used vinyl floor tiles in your businesses we would love to see what you have done to share with our community, so why not send us a picture?
If you would like to explore what tiles would suit your business, just pop Nick an email.